Vest carriers - the classic bags which look like a vest!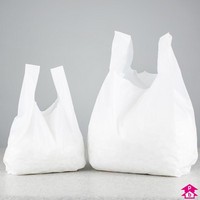 The most popular type of carrier bag in the United Kingdom and many other countries around the world is the vest-style carrier bag or vest carrier, so called because of its vest-like shape when laid out flat.
The main section of the vest carrier bag, which carries the goods, looks like the main part of a vest that surrounds the midriff, whilst the carrier bag handles, which extend upwards from the bag opening, look just like the shoulder material on a vest, which of course has no sleeves.
Vest carriers are made from high density polythene (HDPE) - a lightweight but strong from of polythene which is more crinkly than the low-density version, hence why vest carriers are often referred to as 'crinkly carriers'.
The strength of HDPE allows vest carrier bags to be produced with a very thin layer of polythene - ranging from 8 - 28 microns thick (32 - 112 gauge) - whilst still retaining good bag strength, meaning they can be produced at very low cost. They are available for as little as 1p per bag or even less if you choose to buy in bulk.
It is this great value for money which makes vest-style carrier bags very popular with retailers of all sizes, from nationwide supermarket chains to small independent grocery stores, right down to your everyday corner shop or market trader.
Since October 2015, most retailers across the UK have been required to charge customers 5p for each carrier bag they take away from the shop in a bid to reduce bag waste. England was the last country to introduce the carrier bag tax, which was first introduced in Wales in September 2011.